Features
Internal use only, therefore suitable for outward opening windows.
The white PVC frame fits onto the window frame with self adhesive dual lock fixing pads.
The insect mesh is attached to the PVC frame by a magnetic strip; the mesh is peeled back to open and close the window.
Made with grey 18×16 gauge insect mesh as standard. Also available with 20×30 gauge midge mesh (please ask for details).
Available as single, double or triple frames to ensure window handle clearance.
Made to Measure – meaning we make it to your exact measurements and it arrives ready for use.
Measuring Instructions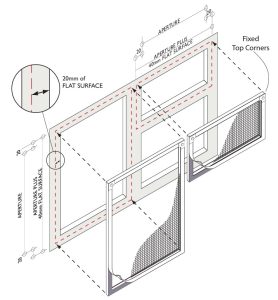 We manufacture to the sizes given to us, subject to +/- 2mm manufacturing tolerance. Please ensure you have read our measuring instructions carefully and made any deductions required.
Measure width and height of the aperture, plus any bevelled edges on the window frame. Allow space for window handles and fittings which need to fit within the frame of the screen. Add 20mm of flat surface on each side (for the screen frame to attach to).
Check to see if you need to build out with additional frames (see below*).
Width: Aperture (and bevelled edges) + 40mm of flat surface.
Height: Aperture (and bevelled edges) + 40mm of flat surface.
* Do you need additional frames?
If the window handle protrudes up to 22mm beyond the flat surface then you need a single frame.
If the handle protrudes between 23mm and 35mm then you need a double frame.
If the handle protrudes between 36mm and 48mm then you need a triple frame.